Friday's trip on Maui was to Hana. Many folks will talk about how long of a drive it is, the winding road, the narrow roads, etc. But in reality when we started heading there the sign said thirty-something miles which isn't that far to drive. But yes, the road is winding and the many lolo tourists who absolutely must stop on the single lane road to get out and take a photo can drive you a little lolo yourself.
But the drive has nice views (why else would everyone block traffic?) and we made it to Hana two days before the earthquake caused a landslide and blocked the highway.

While there the statewide Aloha Festival was dying down and one of the last events was a lei and flower contest. This is the first place lei.

Second place lei.

First place display.
Some people were inspecting these lei closely to find out the secrets to success. The kinds of plants used, the weave, folding and threading.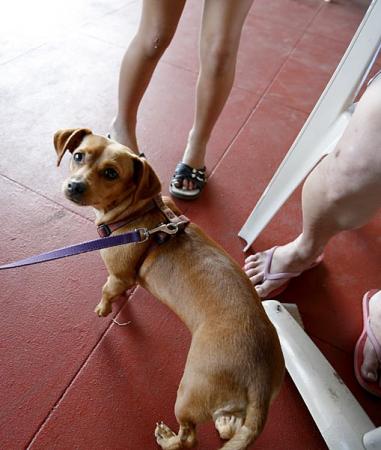 And after the viewing of Hana Bay (no, they don't make the rum right there) and flower lei and displays it was time for lunch which this pooch found very interesting. But alas it was a rather unremarkable shoyu chicken plate lunch advertised the baked chicken special.

And we had some fun talk-story with a Hana keiki named Shantel. She was animated, explaining something about how she has never been to the public library to the horror of Dawn who listens in disbelief. But driving away we saw Shantel and her mom and I think Dawn convinced them both to go to the Hana library.

And if you make it to Hana you have to stop by the Hasegawa General Store, if anything to buy a shirt to prove you made it there. The last time I was in Hasegawa's it was in a different location (which had since burned down) and it was just about the only thing in Hana. That was something like 24 years ago? Ouch, I feel old.