Went over to Kanaka Kava with Mike to meet some friends for some kava and I saw a bunch of blue lights and cops in the parking lot so being the pj that I am I had to investigate.

Apparently what happened, according to a bystander, is the cops were arresting some gal in the parking lot who was driving this pickup. She got out and as the cops talked to her the pickup started to roll down the parking lot with nobody in it. A cop tried to jump in, or lean in and stop the vehicle but it was too late.

The driverless pickup smashed into this SUV, bashed it and pushed it up onto the curb.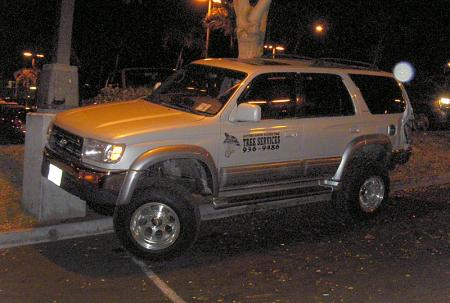 The force drove the SUV into a lightpost causing damage to the front too.
Quite the bummer for the owner of the SUV.

On a happier note we got to have some kava later and some pupu at Kanaka Kava. I neglected to shoot photos of the other food which included (here: veggies, shrimp, ulu) kalua pork and Okinawan sweet potato pie with a layer of haupia. Pretty ono stuff. I only sampled the pie which was nice in that it wasn't overly sweet. (I had a photo of the pie but accidentally deleted it).