Okay, I'll admit I didn't take time earlier in the day for a POTD and Karen reminded me that I've overdone the sunset thing as a cop-out photo. So I'll take the usual route for most people, a pet photo. This is Dominator, or Dom for short. I didn't name her, as a kitten she was named by a surfer dude going by the nickname Bundy who lived in a surfer's house with a friend of mine going by the name Wease. With names like those no wonder she got such a name.
Here she's giving me a Bill the Cat look as she notices me snapping photos. She woke from a nap when she heard the shutter snapping. For those who don't know who Bill the Cat is you're probably too young, or too old. BTC was a creation of Pulitzer Prize winning cartoonist Berkeley Breathed. Although BTC was killed-off due to a bad case of acne I think he should make a comeback now since in the cartoon he once had Donald Trump's brain implanted in his head and he ran for President, perfect timing for this year.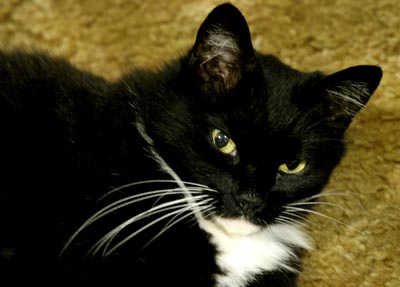 Here she is more fully awake and aware someone is shooting her photo and she looks a bit pissed.

The 'real' Bill the Cat with that one big eyeball.
That's it, nothing spectacular to post today, it's my Friday. Good night.