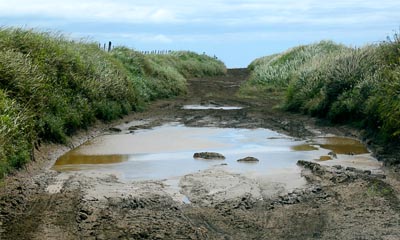 Visited the Kamehameha I birth site today in North Kohala. The road has really gone downhill in the past years with huge ruts and mud lakes to cross with 4×4 vehicles only. Here's one of the mud bogs, one of the smaller ones that was about 15 meters across and about eight inches deep. There was another bigger, deeper one farther on with soft piles of mud. Got the windshield splattered going through that one.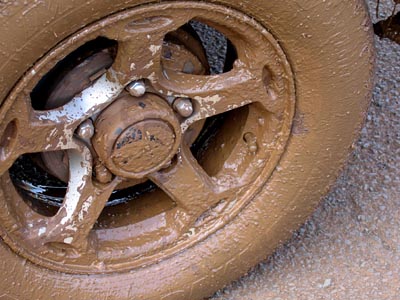 The mud covered wheels after coming back out to Upolu Airport parking lot.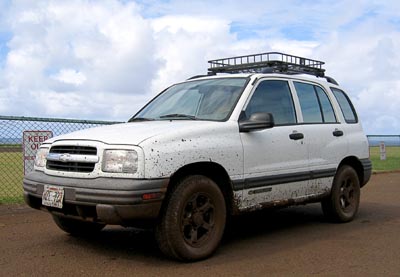 It's hard to see but I've got big chunks of mud stuck to the lower portions of my car, splatters over the hood and sides. Folks who have seen my car think I should not wash it as it makes it look like a real SUV instead of the normal urban 4×4-wannabe.
So many folks own big SUV vehicles that eat lots of gas, hog parking areas and look almost ridiculous sitting shiny in parking lots. Seems silly when I see some giant H2 Hummer in a parking lot with a beautiful metallic paint job, shiny chrome and perfectly cleaned windows. PF told me James Cameron (the Titanic, Terminator director) owns a Hummer and orders his employees not to wash it as he likes it looking like a real off-road runner.
The car is running pretty good with the rebuilt engine but I noticed mud now inhabits the engine compartment.