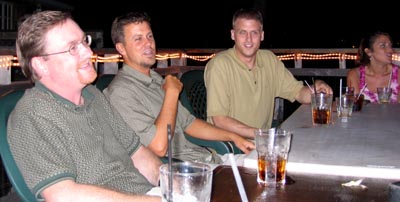 Once again dollar drink night brought us out for a few rounds. Ron, Travis and Brett (Travis' brother) kick back with a few doubles.
Travis later decided that he was drinking too much, so he started ordering doubles in a short glass. He was drinking too much soda and upped the alcohol ratio.

I take aim at Carly with my cellphone camera as Jim looks a bit stunned. I'm not sure how many drinks Jim had but he started inviting everyone over to his (and Ron's) place Sunday for a BBQ. Trouble was that Jim wasn't even planning on being in Kona on Sunday, he was going to Hilo.

Andrea and Tim hang at the end of the table closest to the bar, good idea.

Joe tries his best imitation of Gene Simmons, or maybe just an imitation of Andrea and Carly.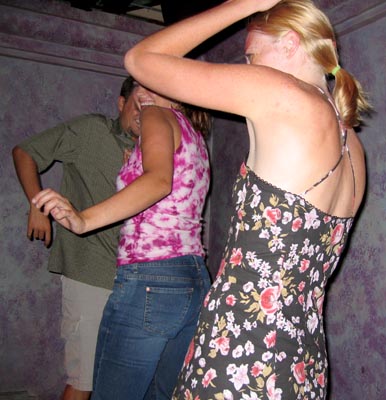 Travis, Peggy and Andrea shake it on the dance floor. Naughty By Nature.

Carly and a jet-lagged Brett on the dance floor.

Ron uses a tantric mantra to stay calm.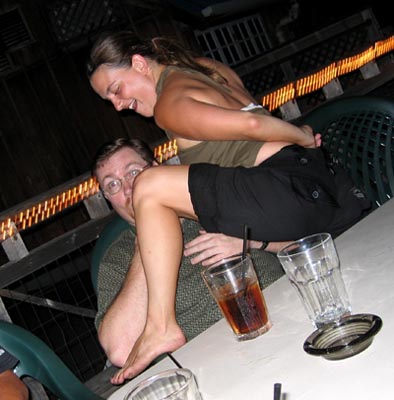 So much for the mantra and concentration.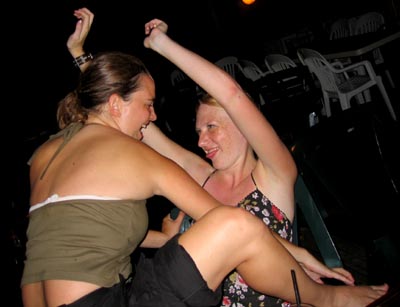 Andrea follows the "no hands" rule as she gets a pseudo lap-dance.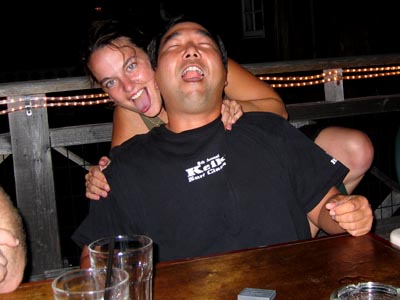 Carly performs the Vulcan nerve pinch on me. Take me to your leader.