Went for a nice stroll through Kailua-Kona town. Okay, I'll tell the truth, my car was at the mechanic to fix my broken A/C so I had no choice but to walk around town. It was still a nice, albeit hot and humid, day to stroll through town. Here's the view back to Kailua Bay from the seawall fronting Hard Rock Cafe Kona.
As for my car, an A/C tubing has a hole worn through it and the dealer's computer was down so my mechanic could not see if they had the part. Looks like I'm gonna be without A/C for awhile. Not that I'm an A/C snob, I drove for years in my Ford that had A/C without turning it on. But it really helps to have that to defog the windshield while driving in all the rain we've been having.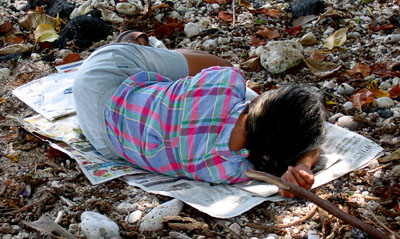 You gotta admit that there are some folks who like our bigger broadsheet newspaper.
Actually I've heard it both ways from folks but I think everyone is getting used to it and seeing the benefits of having a broadsheet paper. Sure makes it easier to pull those sections out for everyone to read, or sleep on.