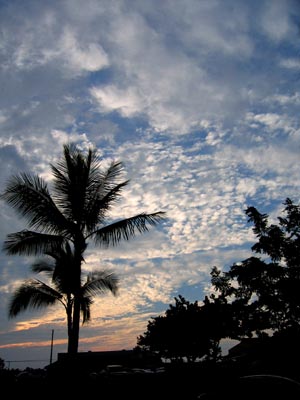 Today is my Friday and as I left the sky was checkered with clouds for cool, muted sunset seen from our parking lot. Hopefully conditions are cool on Saturday during the Ironman Triathlon.

I had gone to the Ironman Media Center earlier today and took Joe with me to get him introduced to the system of getting credentialed. Every year they give members of the media a bag full of swag, stuff specifically for the media like our access passes and wristbands (I'm not photographing that, don't want anyone to copy them) and stuff pitched in from the sponsors of the race.
In the bag this year you'll find (from bottom to top): Ironman visor (cotton this year, not cheapie styrofoam or plastic), Gatorade bottle, Ironman Triathlon 2004 poster, a notebook by Janus (last year Brian got a Janus beach towel, I had him fold it appropriately for a photograph), Ironman pin, Fig Newtons, Fig Newtons fanny pack, an official Media T-shirt (must be worn on Ironman day), a Volkswagon Tureg T-shirt, an Ironman program, Ironman Media Guide and spectator's guide. It all came in the bag under it.
A pretty good haul. Lots of stuff brought in by the sponsors are given away during Ironman week and day. Timex is a major sponsor and in town at the Ironman Experience (and expo at Hale Halawai) you can usually get free watchbands, free samples of athlete products like weird high energy foodstuffs, and during the actual race at the finish line they're always tossing out free T-shirts, hats, watches, visors, stickers, etc. If you like freebies, come down to the finish and act like you're catching a Barry Bonds homer.