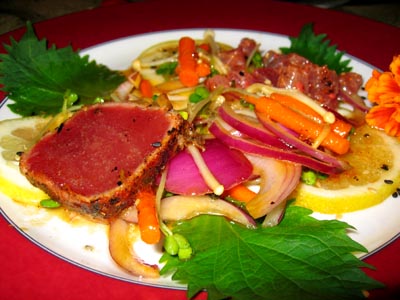 A bad thing happened today, I had sashimi and liked it. Let me explain, I never eat raw fish as I don't like the texture of it so I don't eat sashimi or poke. But tonight I went to 5′ restuarant in Laguna Beach with Chaz and Linda, they had this blackened sashimi appetizer so I decided to give it a try. It was really good, so were the veggies that came with it. It even had some poke stuff on the side which was good. This cannot be good for my wallet if I start liking raw fish.

Linda and Chaz at 5′ (actually the resturant's name is pronounced Five Feet) before getting our food, notice how they're bundled up from the cold weather? We all liked the cool weather but it was turning pretty cold at night. Linda and I both ordered the same thing which was ono and scallops cooked with a a chili sauce and it came with veggies, peppers on a bed of Thai noodles with peanut sauce. It was delicious but my mouth was on fire. The food had slices of jalapenoes or something similar and I ate a green slice, then my mouth was burning but continued eating as it was delicious, then like a fool I ate another but this time red. At first it was like eating a slice of bell pepper, no burnning. Then the heat kicked in and it was like I ate pepper spray, whoa! I guess the name of the entree should have been a clue, it was called Hot, Hot, Hot. I should have gotten a photo of it but we were hungry and got busy eating quickly.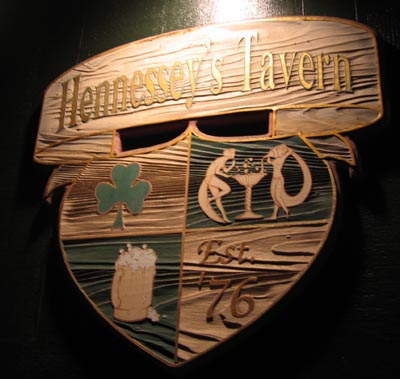 After the food we strolled over to Hennessey's Tavern a very nice tavern nearby.

Linda in the tavern.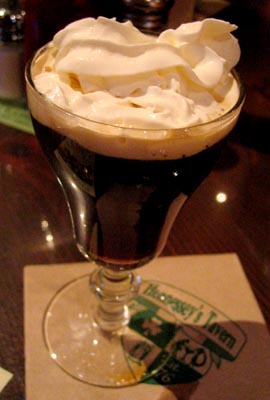 Got a round of Keoki coffee drinks to let the whipped cream put out the fire from the peppers, Linda's mouth was also burning from the food.

Ready to drink our nightcap.

After getting back to the Inn Chaz broke out his Gibson electric and jammed a little Hendrix for us.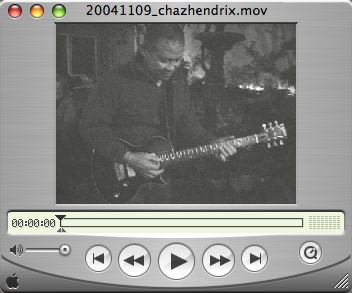 Click on the above image for a little video of Chaz playing. Had to convert it to black and white as it was so dark I had to boost the video and color was bad.