As I promised the kids we went on another hunt for a geocache. The night before we went through a list of nearby geocaches, most of them seemingly too difficult for the kids tastes so I found one I knew would be easy. Foxy Roxy is an easy to find cache on fairly easy terrain. I hadn't been to this one before so there were no real hints I could give the kids. They scrambled over the old lava fields and couldn't find it. So I decoded the hint and that helped a bit and after a bit of guidance from me they found it.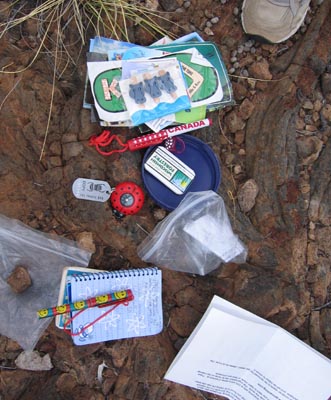 This time I was a big more prepared and had stuff to put in here, thank goodness it had a big jar as I put one of my birthday present robots into the cache along with a buck. For that I took the Lost Cheesehead Travel Bug (the thing that looks like a ladybug attached to a dog tag. I'm going to put that in a new geocache I'm planning to set soon.
The kids kept saying that was too easy and I was prepared with some printouts of several more geocaches we could possibly go to. With time for one more geocache before the airport we headed into Kona for the Kealakehe Hide.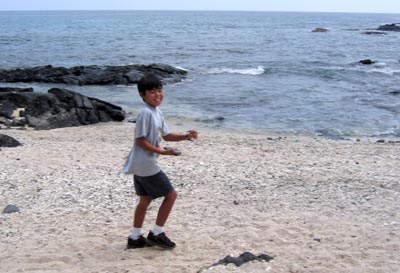 Kyler with my Garmin iQue 3600 GPS unit trekking along the shoreline to the Kealakehe Hide.

Alyssa with my Garmin eTrex Vista GPS heading for the Geocache. I was surprised how fast they learned how to use these things well.

After a bit of poking around near the cache but in the wrong place Kyler found it. It's a pretty easy cache to find and I'm sure folks stumble across it by accident without a GPS. I put my other birthday robot/doll by leaving a Darth Vader type character in there.
A fun time and I'm sure if I had shown them geocaching on the first day of their vacation they would have had us going all over the place looking for them. Now I've got to hide my geocache, stay tuned for an update on that.