Yet another visit to my friend in South Kona, gardener supreme Sunao.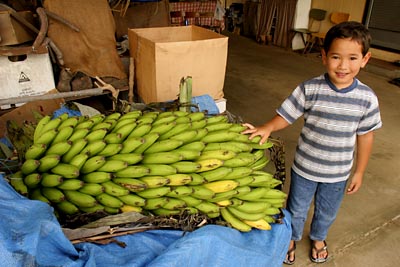 One of Sunao's little family members (I'll have to find out who later) with a 120 pound bunch of bananas. That's a whole lotta bananas there. He usually has to prop up his banana plants with 2×4 pieces of wood to support all the weight.

Sunao next to a dryland taro patch growing in his yard as we walk along for a tour.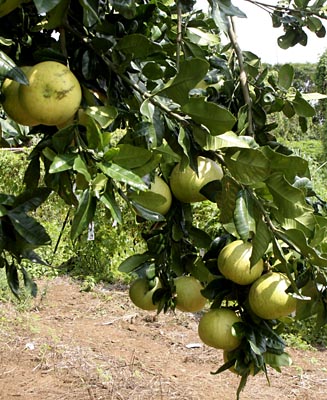 A tree full of Jabone fruit. These things are the size of honeydew melons hanging from the tree.

Dasheen, a variety of taro where you can cook and eat the runners you see coming out of the ground like tentacles. I cooked some in stew and it was a bit different in texture.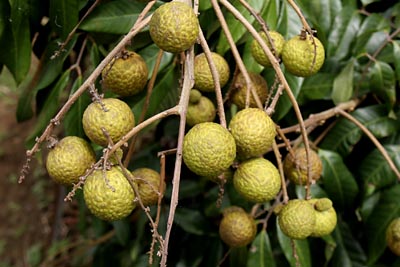 Pulasan growing on a tree. Very much like lychee but much sweeter. Click on this text for more info. It has a larger seed than lychee and although the skin looks different it peels pretty much like lychee except maybe its more flexible.
UPDATE From a comment on the old blog, "hello! those are longans not pulasan. babe borneo"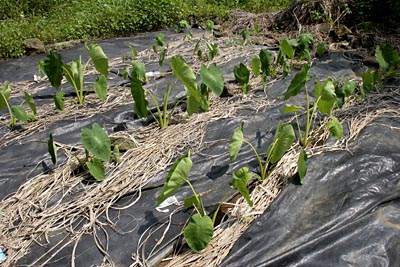 Neat rows of taro growing between weedblock cloth. Sunao is trying a new technique of just flattening the weeds and grass to reduce the effort of growing by not having to clear all the land.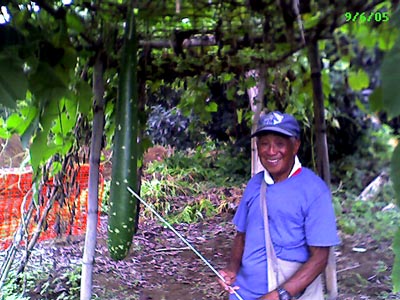 A final photo, sorry but its a low quality cameraphone photo as I got lazy. Sunao and one his last giant squash plants growing in the yard.
Sorry for the late posting of these photos but I'm sure you'll understand.