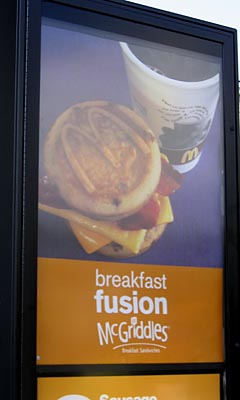 The drive thru at McD's in Kona, the whole site recently got done with a major overhaul, new building up (not like Kona's Burger King which had it's building gutted and now in the process of re-gutting). They've got this sign up saying 'Fusion' like it's some kind of new age Pacific Rim cuisine. Give me a break, it's a round waffle thingy with syrup crystals in it surrounding McMuffin parts. btw, I didn't order one of these things, though I have in the past so I speak from experience on the syrup crystals.
Does this Fusion make my ass look fat? Must be because if you eat those things every day your okole will achieve critical mass. A fusion reaction on it's own, though it might produce methane instead of noble gasses.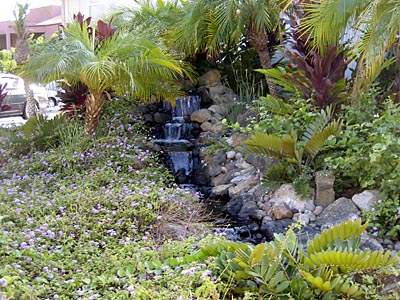 And you drive a little further in the drive-thru and you come across this idyllic scene behind McD's. Palms, a tiered waterfall, greenery. Hey, I just want the driver in the front to be getting their correct change together instead of relaxing at this scene and fumbling forever at the 'first window.' Seems like the perfect spot for a coqui frog or two.