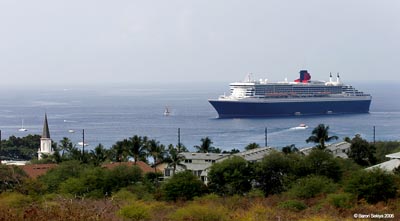 The Queen Mary 2 paid Kona a visit Friday. This ship is pretty darn big and I've been aboard Nimitz class aircraft carriers before.
Click on the image for a bigger photo.
And if you're wondering where I shot the photo from, I was in the Wal-Mart parking lot.

Click on the above image for a panoramic shot from the parking lot, if you look good in the bigger image you'll see the Pride of Aloha cruiseship coming towards Kailua Bay on the right.