Flew out early to Maui this morning for a NY Times assignment photographing author Rebecca Walker in up-country Maui.
It's a bit of a hassle to get to Maui sometimes as there are only a handful of direct flights from Kona, I couldn't take one of those direct flights since I wouldn't be able to make the morning assignment time. In the header you'll see my view of the sunrise over Mauna Kea as I flew away from the Big Island, a beautiful sight so that was a treat for my early Maui via Honolulu hop.
I found Rebecca to be charming, intelligent with the aloha of a kamaaina. Despite the thunderstorms things went well as there was a little break in the weather while I was there.

Click on the image directly above to go to the NY Times story, you'll need to be registered for their site, which is free, to read it. She's got a new book coming out, Baby Love (hint: you can buy it via the Amazon link on the right)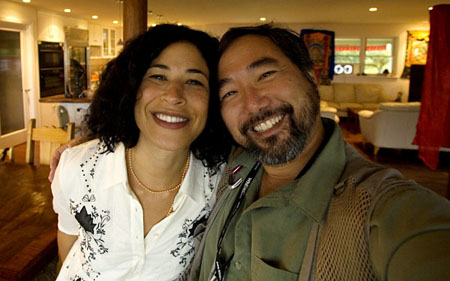 Mahalo Rebecca for spending the time and aloha on assignment.