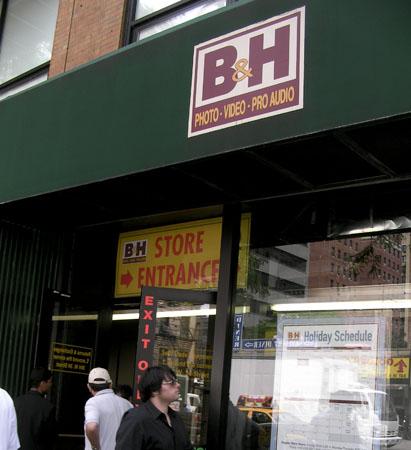 As I promised PF I headed to B&H Photo-Video in Manhattan. This is mecca for photographers, kinda like how the Apple Store is for Mac geeks.
Where to go? They have pretty much everything here, they even have a big selection of darkroom supplies for old-school film users.
And of course and entire selection of camera gear by Canon, Nikon, Pentax, Sigma, etc. A person could go broke here. I showed remarkable restraint, I only bought a $12 camera bracket but almost bought a Variable Friction Magic Arm, if you're not a photographer that last thing won't make any sense.
Just down the street from B&H is the Empire State Building. If you visit I suggest buying your tickets online and workers said the opening hours are the best to visit. I went during lunchtime.
The lobby as folks pose for photos and stand in line to go up to the observation deck. The wait for me was at least 1 hour but it's not unusual to wait 2 hours. I suggest having something cool to drink and something to snack on while you're in line. For most of the line they have repeaters to use cellphones in the building, so you can pass the time surfing the net or SMS'ing folks to keep you busy. It takes two elevator rides to go up, one to the 80th floor, the second to go to the observation deck on the 86th floor.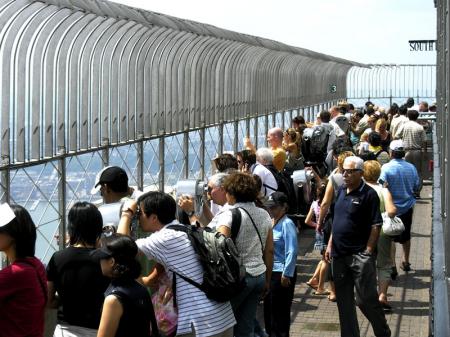 Once you get up to the observation deck you can stay as long as you want. There isn't a lot of room up here and everyone hands their cameras to others to have their photos taken, I took photos of about three sets of people with their cameras. See that criss-cross fencing? There's no glass there, you could stick your hand out there and accidently drop something. I stuck my camera out and took a photo straight down expecting to see busted open cameras, sunglasses, hats, etc but the outside landing had mostly a bit a trash, not much.
The obligatory city view, you can see the Chrysler building. Click on any photo to see an enlargement.
The World Trade Center site, ground zero of the Sept. 11th attacks. I had never been here when the buildings were standing but it's a bit sad to think about what happened here.
Times Square, a good place to grab something to eat and people-watch.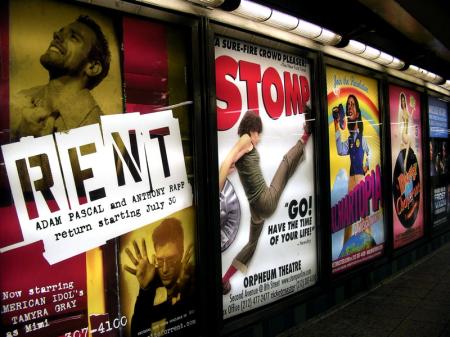 Posters in the subway. It is very easy to get around New York thanks to the Metro. You pay and ride the train in/out then pay for the subway and you can do as many subway transfers as needed to get where you need to go. Once you figure it out it's pretty easy.
That's it for New York! Mahalo to Jeanne and Trevor for letting me stay over and to PF and Gabi for the cooking and singing respectively (I've never heard PF sing). Washington, DC here I come.