Spending a day shopping for hardware at Home Depot in Honolulu builds up an appetite, or at least that's my excuse. So I decided to test out an iPhone App I have called Yelp that uses my location to make suggestions for places to eat or drink nearby. Yelp suggested Sugoi only about a block away.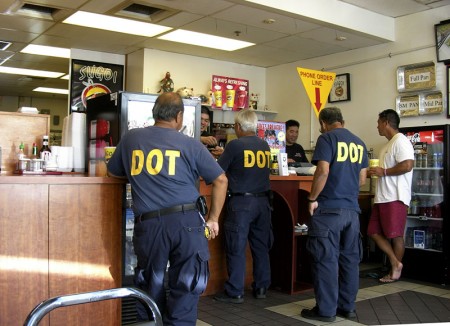 I got there just before the lunch crowd started piling in, here some highway guys stop for lunch. You see lots of folks in some kind of matching uniform come in there to eat on their lunch break.
 
One constant in the Yelp reviews was talk of the garlic chicken there so that's what I ordered. If you must view the full menu click here as they serve breakfast and have bentos.
 
Not exactly the most healthy of meals. Deep fried boneless chicken pieces with a spicy garlic sauce mixture poured over it. I could have had brown instead of white rice and not gotten mac salad but I decided to get the baseline standard. The sauce is not overly garlicky, sweet and Sugoi's sells it in bottles in case you have to make this at home. Overall a thumbs-up. Plenty of food, lots of tables in the air-conditioned place, self-serve soda fountain.