I was driving up Laupahoehoe Point Road when off in the distance I saw a small black thing moving around. I thought it was a Mynah Bird and it would take-off as I got closer then when I got closer I could see it was a tiny piglet. See the video.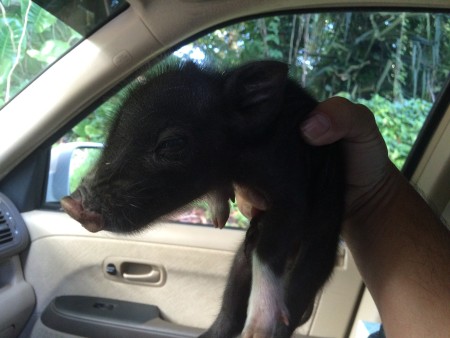 This piglet was tiny and probably only a day or two old, it even had some of its umbilical cord still attached. If you're familiar with this roadway you know that on the makai (ocean) side it's a steep drop-off, on the mauka (mountain) side it a vertical rock wall. Momma pig wasn't in sight or hearing distance and the road is only about one lane wide. So I scooped-up the piglet, swaddled him in a beachtowel in my lap to ride further up the road. There was lots of traffic after I picked him up with school buses coming down the road and tourists driving up/down too. Surely he would have been hit, fallen down the cliff or caused someone to swerve to avoid him crashing into the wall or down the cliff themselves.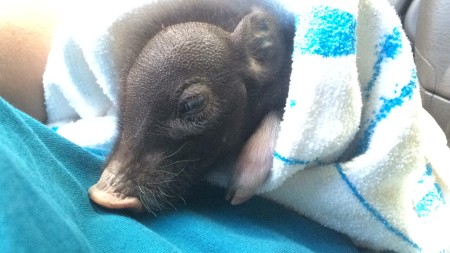 Now what to do with this Piggy! No mother around, too dangerous to leave out, much too young to survive on his own. After posting messages online to see about any takers I finally got in touch with Jane who connected me with Regina in Kona who offered to take in the little guy. Regina does work with the humane society, loves animals and happened to be nursing a couple other piglets back to health the past couple of weeks. So it was off for a 50 mile ride to Kona. Piggy burrowed into my beach towel on my passenger seat and nested in there snoozing away during the drive. He was weak but was also a very tame, well behaved piglet.
Success! After a few stops in Honokaa and Waimea I finally got to Kona where Regina took over Piggy for some needed care. She said he looked dehydrated and would need to be fed goat's milk every two hours and kept warm. Regina is an angel for doing this and caring for animals.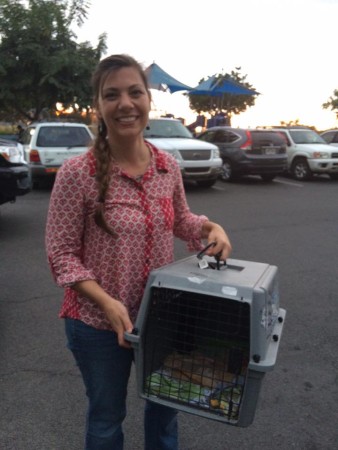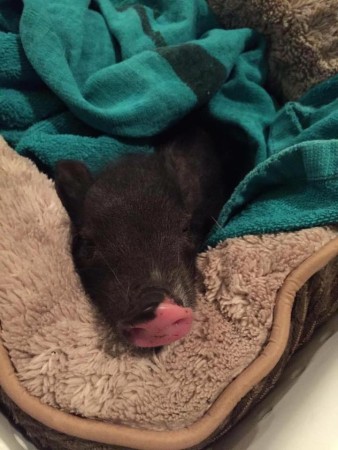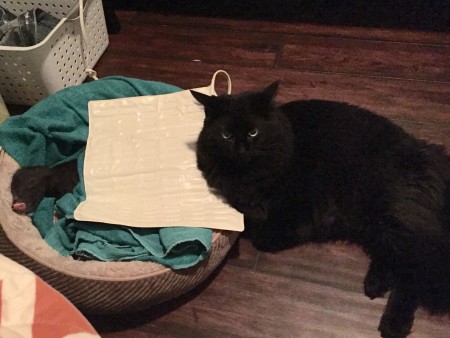 Video of Piggy 24 hours later, eating well and active. Video courtesy of Regina
So even though my travels were delayed I think it turned out to be an interesting birthday day for me. Huge mahalo to Karin, Jane and Regina who called around and took in the piglet to be nursed back to health. Lucky I live on the Big Island with such caring people!
UPDATED (8:36 a.m. on 2/10/2016)
From Jane, 'Your other birthday surprise: we have named him: Baron Von Piggleswein!'
My namesake piggy.