Shrimp tempura and teriyaki beef combo dinner at Teshima's Rest. in Honalo, yummy atery-clogging food. But oh so good.

At the Kona Brewers Festival I took photos of lots of stuff and one of the cooks from Big Island Grill handed me this, a softshell crab with some kind of wasabi, mochiko batter and a sweet sauce on it. Not something on the restaurant's usual menu.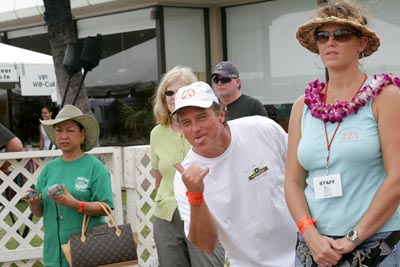 Chris giving me the shaka as he had to wait in line to get into the BrewFest. He must have been thirsty as he was almost the first person in line.

Dawn will appreciate this. I was in Kohala today on assignment and was lamenting about how I couldn't get Dorito Salad anymore in town. Then a gal told me the recipe for the dressing. I had everything I needed at home except the shredded cheese and Doritos which I promptly shopped at KTA so I put together my own Dorito Salad tonight.
It's not quite the same as the one in the resturant because I have some fancier greens, the resturant in Kohala had plain iceberg lettuce. But the dressing was right on and pretty tasty. Now about that Korean Chicken recipe….
*update* Dawn's comment from the old blog site to this post.
Hey! who gave out the secret?? did they make you pay big bucks?
Here's my "secret "Korean chicken recipe. 1 cup shoyu, 1/2 c sugar, minced garlic (if you like a lot, put lot, if little, put little) and about 2 tsp of mirin. Boil until sugar is dissolved. dip your freshly fried chicken wings or pieces into the sauce, one-by-one. re-dip pieces again and serve.
If you try it, let me know what you think
dawn | 03.07.06 – 9:11 pm | #