This afternoon a storm moving down the Hawaiian island chain finally hit the Big Island despite a beautiful day on the our trip up the coast. Wave action was rough in Kona which brought kids down to the Kailua Pier for body boarding and surfing. Whenever we have a big storm or hurricane the surge produces excellent body boarding conditions in the normally tranquil area next to the pier. And this was only a few hours after low tide, if the surge continues it would only get worse at high tide at about 10:37 p.m.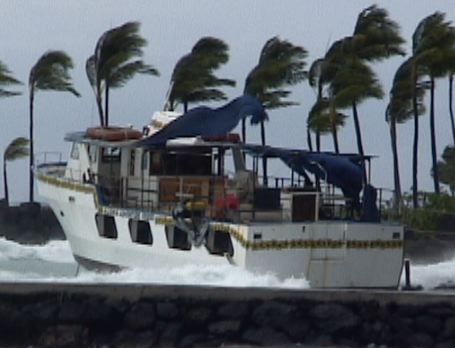 A boat owned by Glennon, not sure if it's him personally or via one of the many organizations he's involved in, ended up on the rocks near Ahuena Heiau. A very sad sight to see anytime this happens since saving the boat is difficult unless you get it back out into the water within a few hours. Glennon is in South Korea for some kind of workshop and as far as I know nobody has been able to get in touch with him.
Because Michael, the other WHT photog, already had still photos of the action down there I grabbed my video camera and shot some footage. The storm surge washed over the pier, sent geysers of water up over the seawall onto passing vehicles and brought out a crowd of gawkers. High winds swept back the tops of palms like dog ears out a car window. Flotsam littered the water near the pier on the calm side while body boarders had a field day on the active side which resembled a hugh washing machine in action.
Here's the video of the action. If you can't see any video then your computer probably needs QuickTime which is a free download from Apple, you can get it at this link.