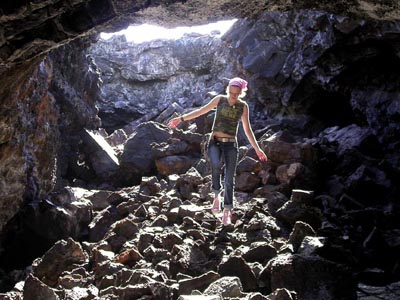 Andrea glows from the sunlight streaming through a skylight of a collapsed lava tube. Exploring lava tubes on the Kona coast.


Cracks in the ceiling of the lava tube stream light like lasers into the dark void below ground.


The beams spotlight the rocks inside the lava tube. Notice the ti leaf for good luck, not that we're superstitious, but why take a chance.


Andrea puts herself in the path of the beams shining like a beacon. I told her the photo reminded me of a Marylin Manson photo for some reason, a scary thought.
---
Andrea is the page designer at the newspaper and accompanied me and two others on a spelunking adventure. If you want to see more photos Karen, one of the other spelunkers, may post photos on her blog pages.