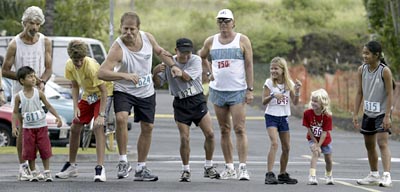 The start of the one-mile St. Patrick's Day Leprechaun Run at Lanihau Center. Here's runners joke around about jockeying for position at the start of the race by pushing each other around. The day featured a one-mile race, 5K race and 10K race.

Speaking of jockeying for position, here's Jon O'Kunitake, left, on the violin as they play Toora Loora Looral for the crowd. Jon used to be a jockey when he lived on the mainland and rode in hundreds, if not thousands of races. Now he's back in Kona in the family business of creating excellent Kona coffee. Jon's still an athlete and is often seen at running events and has made the Kona Marathon a real success.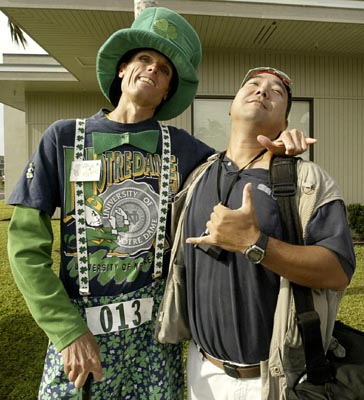 Here I am on the right with Sean 'Peaman' O'Kelly-Pagett dressed for the race in his finest greenery, complete with shillelagh. Photo by Brian O'Perdue.

Here's Sean introduces the runners/contestants in the Leprechaun costume contest during the awards ceremony. The kid got the loudest applause and took home a prize of Lanihau Center gift certificates.
All together a beautiful day for running. Cool, cloudy weather and friends everywhere joining in for the fun. If you like running, swiming or biking then Kona is for you.