Went to Waikoloa Village today to get Arlene's old Mac that she's giving to me. Not sure what I'm going to do with it yet but I'm sure I'll find some worthy cause for it. The drive home was at dusk and halfway to Kona there was a wall of dark clouds to be driven through with rain along the way. You can see the other car's headlight illuminating the clouds and fog on the highway.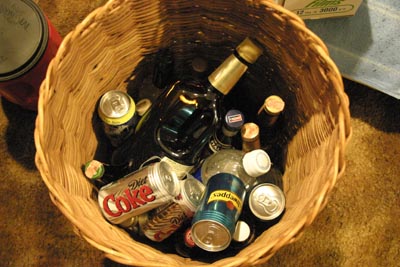 I went to Arlene's to get a computer but ended up with a car-load of food, cleaning products and booze. This is the last week Arlene and her husband will be going to their old home in Waikoloa Village, they're already staying at a friend's condo unit. So she emptied-out the kitchen and gave me everything she could put into boxes, bags and baskets. Here's a photo of all the booze that won't be making the trip to Alaska. Actually I'm going back tomorrow to help her with her new computer and she promises more booze for me. Jack promised me a case of motor oil.
Hopefully Chula will be dropping by tonight to take some of the foodstuffs that Arlene gave me. My apartment is a mess, my refrigerator is full and for some reason I can smell soy sauce that must be leaking somewhere. It's too much of a mess for a photo. Looks like were going to have to eat our way out of this bonanza of food. And no moose-meat in the windfall, Jack said it was too precious to be given away so they had their last moose-roast with some friends. He said he bought a rib-eye that nobody touched, all their friends went for the moose-roast.
Arlene gave me an open invitation to visit them up in Alaska. Maybe someday I'll take them up on the offer. Moose-meat and salmon anyone?