Ali joined us, or I should say we joined them, with his wife at Michaelangelo's for a night of drinks and dancing. Here Ali 'cuts-a-rug' with his wife on the dance floor.

Of course that wasn't enough so Carly and Chula had to join-in on our exclusive dance floor. Although the club is packed on Wednesday nights when it's Ladies Night it's pretty slow with customers on Thursdays which we can't understand.

Thursday night has no cover charge and well drinks are only $1. How can you go wrong? For $5 you can have 5 drinks. For $20 you can have more than you can drink along with a DUI conviction. That's Bodee (Sp?) the DJ spinning tunes in the background. He also DJs at Reuben's Penthouse other nights of the week but is at Michaelangelo's on Mondays and Thursdays.

Here Joe, Carly and Chula try to polish-off their drinks, Joe with a single ($1) and the girls with doubles ($2) drinks. Mine is on the table somewhere.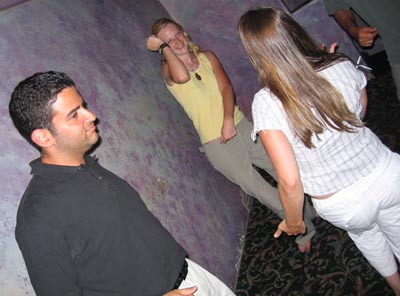 Joe hit the dance floor too.

What's up with all the tongue action?