Andrea, Carly and Carolyn strike a Charlie's Angels pose at Michaelangelo's. We had just about the whole club to ourselves again and because they pretty much don't start their nightclub until 10:30p.m. that's about the right time for everyone to finish work and drop by.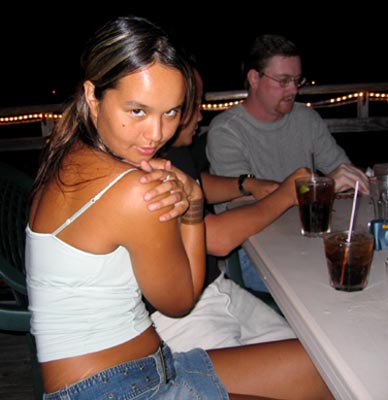 Andrea's photo of the vortex in action…ah, you gotta ask one of the girls about that. Though the vortex doesn't seem to be breaking through the card game behind.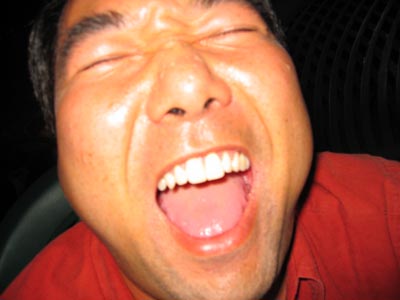 Carolyn gave my camera a spin and blasted a few photos, this one of me. Hmmm, maybe I ran out of rum and coke or something.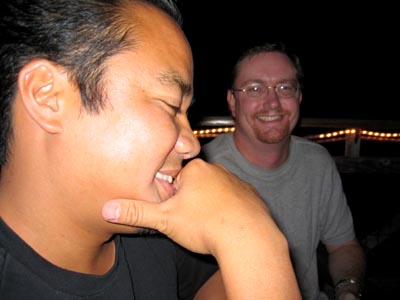 Another photo by Carolyn. Albert, left, gets into a poker game with Ron along with Joe and Travis. I met Albert earlier at Lulu's, he's one of Cathi's old friends from Honolulu where he used to promote and produce parties at various clubs. Now he's living in Florida and was amazingly still awake after three plane flights and several time zones to get to Hawaii that day.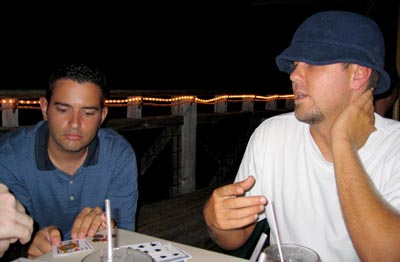 Here's the other half of the impromptu poker game at Michaelangelo's with Travis, right, teaching Joe to play. Ron has been trying to get a regular weekly poker game going at his place for awhile so he's now got Travis recruiting players, carrying around a deck of cards around helps too.

Karen and Chris made it out to Mike's too. I'm sure they would have hit the dance floor but it was still a bit early. Actually on the previous night dancing was more like just moving around a few inches up/down, left/right, front/back as the dance floor was packed and there was no room to really dance. That's why we like Thursday nights.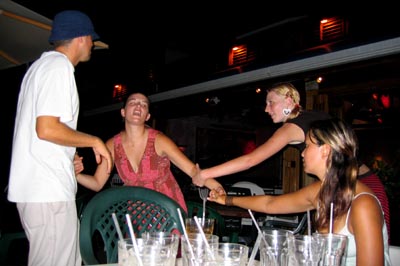 The girls work on getting Travis onto the dance floor. Andrea claims Travis busted some kind of Michael Jackson dance moves but like the Loch Ness Monster, Big Foot and affordable housing seeing is believing. He wouldn't repeat the moves, something about plausible deniability.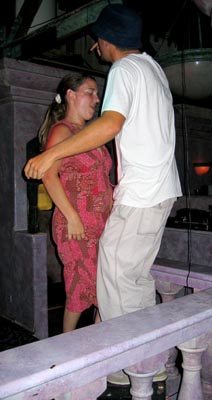 Carly and Travis take over the spot usually held by spinning dancing dude. This is an older guy that usually has a ballcap on and is dancing by himself on the speaker cabinet. He can sometimes be found at some of the other clubs too.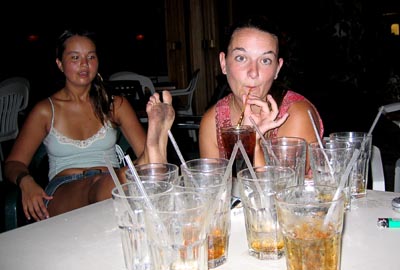 Okay, Carly has had a few drinks and Carolyn shows-off her dirty dancing feet.

Carly goofs for the camera as Travis probably wonders if this photo will make the blog.

Andrea and Poncho. Poncho bartends at Cassandra's on Thursday nights so he got to Mike's late. He is also going to be at the opening of the Ocean Sports Bar behind Hard Rock Café Friday night. So many friends, so little time.

Travis proceeds to surrender his car keys as we head over to C&C's place. We had our designated drinkers, the others drove.
What happened to everyone after this wasn't documented. Let's just say yoga, jaccuzzi, freediving, The Captain, cloves and flashlights. I think that about sums it up. The only thing missing was the pizza. Gotta put that on the checklist next time.