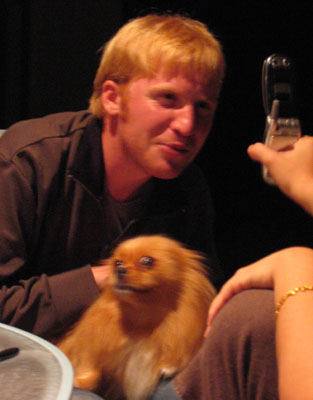 Maile lets Tony chimp a photo taken with my cellphone as Ginger (aka Little Girl) enjoys some quality lap time.

Maile works the camera controls on the phone.
Got together with Maile and Tony and watched I shot Andy Warhol. I think we all agreed that the acting was good, Stephen Dorff as Candy Darling was interesting to watch, he might have actually been the most attractive 'women' in the movie, well then again Jill Hennessy was in it but had a small role. The movie was kind of a drag, no pun intended, as scenes tended to go on longer than needed at points but it probably captured what things were like at the time of the avant-garde art scene of the '60s.
Funny, seeing Andy Warhol at the parties at The Factory reminded of going to parties at Bob Regli's house with Bob sitting around observing the scene. Regli was the head of Kona Kai Coffee Farms in Kona, quite a strange tale for that one, thanks for the great parties Bob wherever you are.