The Ironman Triathlon's over, photos have been shot, interviews done and Brian got Carolyn and myself to come up to Cassandra's where the rest of the gang were already slugging down a pitcher or two of beer.

Brian squeezes in for a photo with a group of triathletes from the original Ironman Triathlon back in 1978 in Honolulu. These four guys were some the original crazies in the pain-festival which would eventually move to the Big Island.

Joe asks, "sir…can I have some more?"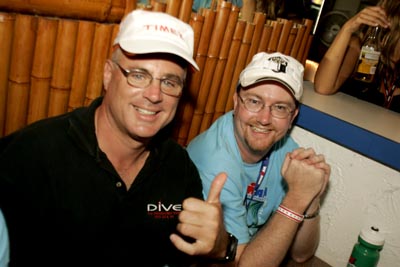 Glennon and Ron with their freebie hats grabbed at the finish line where sponsor's giveaways are tossed into the crowds. At midnight is when boxes of Timex watches are tossed to the crowds.

Carly and Brandon (our newpaper's webmaster). Brandon volunteered in the water patrol for the start of the Ironman.

Brandon and wife, water patrol duo.

Carolyn, Travis and myself rehydrate at Cassandra's after a long Ironman Triathlon day.