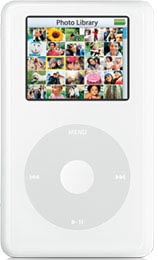 Tuesday Apple Computers released the iPod Photo at a press conference. This expensive piece of hardware would be great except for one glaring omission, it lacks a Compact Flash card slot to transfer photos. Photographers need an easy way to dump photos from their memory cards to an iPod so they can format their cards and continue shooting with their prized photos safe on the iPod. Wouldn't it be great if someone mentioned the iPod as having held their Pulitzer Prize winning photo safely while they kept on shooting? Ain't gonna happen with the current iPods. Professional photographers would snap-up an iPod if it had the slot, it would be a write-off for them as a piece of photo gear.
Sure Belkin makes a flash card reader for the iPod but photographers I've heard from say it takes about 40 minutes to transfer images off their flash cards with the Belkin reader. Here Apple has a high capacity, up to 60GB, hard drive device, built-in brains and software yet they leave that all important slot out. They sell adapters online so if you use SD/MMC cards, Memory stick you can still put it in a CF slot.
This is so much deja-vu like when Apple first came out with the 128K Macintosh. It was a closed system, you couldn't add memory or open up the computer. Even the current iMacs can add memory internally and have plenty of connectivity via ports. This is what happens when you fall in love with your product like Steve Jobs has, you don't want to see anything get in the way of your vision of a perfect device. I can see him now "they want slots? Fuck 'em, the iPod is beautiful, it would be ruined with an ugly slot on the side (the only place left with space to have one). Yeah right, you want to see ugly check this out. If it were all black it would be nice but blah.