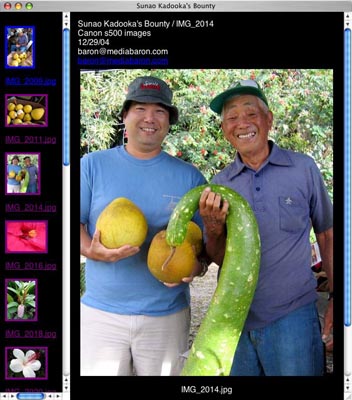 Spent the afternoon with Sunao Kadooka and his wife who took the above photo of us. The Kadookas live in Kainaliu, the mauka (mountain) part of Kona. Sunao is a veteran of WWII and was a member of the 100th Battalion, I think he was in the Military Intelligence Service (MIS) and he is a member of the Disabled American Veterans.
Sunao also has a very green thumb. I've been to his place a number of times to photograph banana bunches with over 20 hands growing, taro the size of children, strange potatoes with angular shapes growing above ground and a variety of things. In fact a TV crew recently had gotten wind of his gardening talents and taped in his garden with some of his giant squash and other things, the show should air in January on HGTV.
As usual after being invited over I left with a bounty of goodies, giant squash, Jabone (or Chinese Pummelo I think), Tangerines, Tomatillos and pumpkins. I also, as usual, got a tour and update of what he has growing in his yard. He's a very generous person and always has an open invitation to show-off what he's growing, just give him a call or you can usually find him at demonstrations and the like during the Kona Coffee Festival.
After a nice tour I got to talk-story with the Kadookas, have some pie, Kona Coffee (in typical local-style food is always presented for guests) and omiyage to take home.
Omiyage are gifts from a place travelled to taken back to others (and yourself) when you get back home. It's a Japanese tradition that all locals in Hawaii are into. When locals visit a neighbor island they bring back the prized goods from that island. Here's a partial list of things to get if you visit the Big Island: Big Island Candies chocolate-dipped shortbread cookies, Kona Coffee, Mac Pie pies, Anthuriums, Mountain View Stone Cookies, Holy's Bakery pies, Donna's Cookies, Furukawa Potato Chips (formerly Deguchi), Kogen's takuan, Keaau Kim Chee, Hawaiian Vanilla Company products and much more. You could write a short book on what to buy on each island and where to get it.
I did eat some of the jabone when I got home along with some Tangerine before I cooked up some of the pumpkin. I'm not big on pumpkin seeds so those were tossed but I cooked a traditional local-style Japanese farm dish, Pumpkin with chicken. Sometimes it's cooked with pork but I had chicken in the freezer which was easily cooked. I've also made the dish with tofu for a vegetarian version or just used the pumpkin alone with is just as good. You'll see it in the photo gallery, just click on the image above. This turned out to be a kind of long post, just when I thought I might let the blog R.I.P. I get an invite to the Kadooka garden that begs to be photographed.