Carly had a voucher for a whale watching cruise for four on the Body Glove, apparently a previous cruise had no whales and since they guarantee it she got a voucher for a free cruise. So she invited Andrea and myself, we ran into Pancho on the way to the pier and he came along for the the afternoon cruise. I started work very early covering Easter Sunrise services so I was off early enough to go on the cruise.

Carly takes a photo of Andrea and Pancho as we lounge on the top deck. No whales sighted.

An oceanside view of Laaloa Beach Park (aka. Magic Sands, White Sands, Disappearing Sands). We headed about nine miles south down the coast to Keauhou before turning around.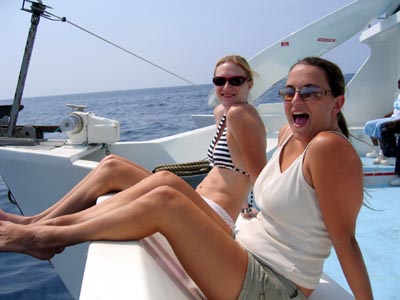 Andrea and Carly cool their feet and get some sun along front rail of the Body Glove boat.

Andrea and Carly's view out the front of the Body Gove.