Took-off from Kona International Airport (click on the image for a larger view) bound for Honolulu for an overnighter. Uneventful flight, though I did score a window seat in front of the port engine should something happen with it or if some alien being jumps on the wing.
Once on an Aloha flight to Honolulu a number of years ago the port engine was giving a bad vibration so they shut it down while we were just past Maui. We landed on one engine and I got a photo of the crash crew, which was out on the tarmac at Honolulu Inter, waiting for us and later poking their heads into the engine before we were allowed to taxi to the gate.

Here's my niece Alyssa packing rice into some plastic mold thingy to make a musubi (a triangular wad of sticky calrose rice). This ain't the SPAM™ variety, this is just plain rice and she wanted a snack.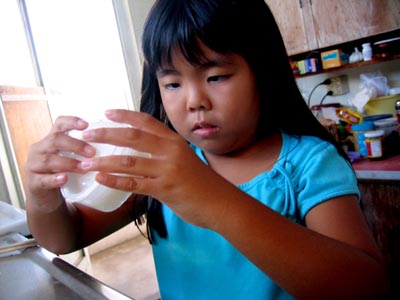 They key is the stickiness of the rice and the compression in the mold. Here she is mashing the rice in the mold. I think she could have used a bit more compression as it started to fall apart as she ate it.