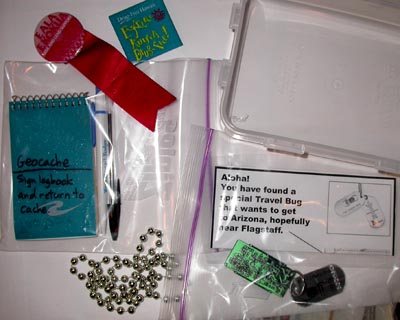 Here's some of the contents of a geocache I placed in Waimea today. It's called the Half-Baked Hide and the title is a clue to the geocache. Also because in my own half-baked way I changed the name of the cache at the last moment in the pouring rain. It had been a toss-up between this name and another which is still written in the logbook of the cache.

One of the weird things you'll see if you're headed to the Half-Baked Hide.
There was another purpose for the geocache. As a going away present I gave Abbie two Travel Bugs with their mission to make it back to the Big Island from Arizona. I'm putting two Travel Bugs in Hawaii with their mission to get near Flagstaff, Arizona where Abbie is going to. So it's a race to see which bugs make it to their destinations first.