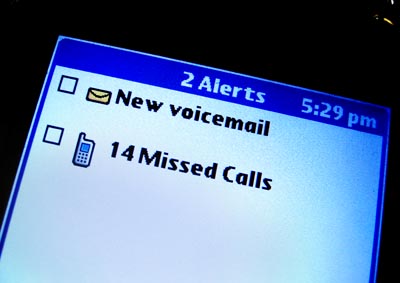 Never forget your cellphone with your parents if they've never used one before.
I'm at the airport now in Honolulu waiting to fly back to Kona. I forgot my PDA/cellphone in the car since I drove and was busy getting my stuff out of the trunk before my folks drove off with my cellphone next to the driver's seat. I realized I had forgotten it when I was at check-in and already knew I was going to miss the early flight which was boarding in 20 minutes. So I rushed around doing all the crazy bag tagging, security screening drop-offs for checked-in baggage and made my way to a pay phone. I figured I'd just have to call my phone, my folks would answer and I'd tell them to come back and drop it off since the next flight was two hours away.
Well after wrestling with the hassles of using my phone card to dial the phone, the crazy pay phone doesn't even have a price on it to make calls then when I tried to call my cellphone it said $1.00 for the call…grrrrrr Lucky for me I keep my phone card number and pin stored in my wristwatch.
I called my cellphone, no answer. Strange since the ringer is pretty loud and I know I left it on and it's right there in the car it can't be missed ringing. I tried 15 times in total, once even getting to my voicemail but no answer. Tried three times to call my folks' home number but I knew they wouldn't be back home yet.
Finally my mom showed-up in the terminal, saying they had my gizmo. I went back out to the car and there it was still sitting exactlly where I left it. Despite all the noise it was producing and the screen lighting-up with a big button saying "Answer Call" they never touched it. They didn't even know it was a cellphone, probably Lynard Skynard as a ringer didn't help.
But they did come back to drop it off for me. So I missed my early flight and I'm on the last one back.
I taught my mom how to use an iPod and how to use a digital camera while on Oahu, using a cellphone was a lesson I should have given too.