Click on the image for a larger version. Spent most of the day at about 6,000ft above Keauhou with a magnificent view of Hualalai, Mauna Kea and Mauna Loa where I spent the day videotaping a presentation by the Kona Historical Society with a one woman performance recreating Isabella Bird's trip to the Big Island. A beautiful, cool and clear day.

Maile starts off the performance dressed in period costume with Mt. Hualalai as a backdrop. The site is Kaanahaha the site where a sheep station used to be with a building for shearing the sheep and compressing the wool for transport. All that is left of the structures are some planks of wood, some metal and a giant screw that was used to press the wool.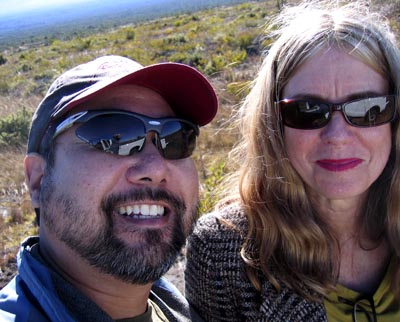 Me and Megan at the site of the sheep station. We were supposed to get about 20 minutes warning via CB radio before the crowd showed-up as we were in the advanced party setting things up. When Megan spotted vehicles driving up without warning we ran around like crazy to get ready for the performance.

Kona Historical travels in style with Bloody Marys at the ready for the crowd before the performance.

Back down to Pulehua for lunch. The site was used for ranching both for dairy and beef.

After the performance it was back down to the old saddle house at Pulehua to chow down on a whole lotta food. I was ready for a nap after that.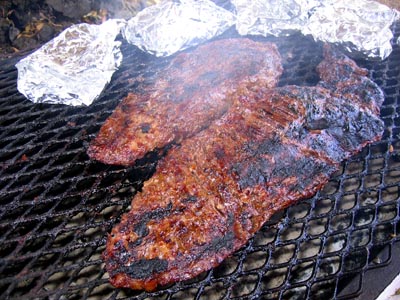 Grilled beef, chicken, the fixings and cookies made for lunch. Not exactlly roughing it but the ride up and down was definately for a 4×4 vehicle with good ground clearance. I was in a F-250 4×4 truck and we bottomed out a few times on the rough terrain on the ranch roads.

The old butterhouse at Pulehua. Butter was churned at this higher altitude, almost 5K ft, then taken down to sell in stores. I asked Sherwood Greenwell once long ago how did they keep the butter from melting as they brought it down on horseback. he said butter in those days wasn't like butter as we know it today. it was more like lard, or oleo for those who remember. But they did make it high up in places like this where it was cool.

Inside the butterhouse. I've been in other butterhouse structures where there was an opening in the floor so they could have a cool pool of water for cooling. Maybe this one didn't have it or it was boarded over in later years for safety purposes.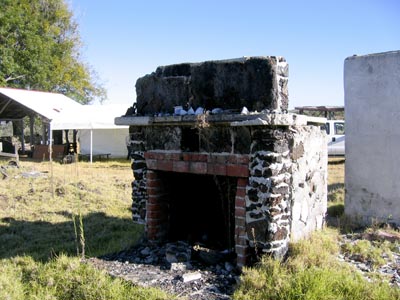 The old fireplace at the Pulehua site with what looked like a shower stall to the right.
I hadn't been on one of these tours for years since I work on Saturdays, I had been on a number of them before and it's always a treat to go places normally off-limits to the public and to get the backstory on the area from historians, experts and family from the area. I would have shot more photos but I was busy with the video gear.