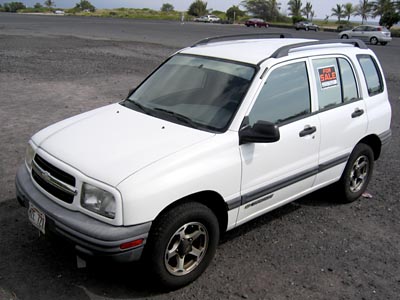 Last night I drove through an automatic car wash, then brought the Chevy Tracker home and waxed it by streetlight. In the morning I attached a couple of signs to it, put a posting on Craigslist and drove to town to run errands and to do some laps at the Old A track (that's where this photo was taken).
I got a nibble early on when someone wrote down my phone number for reference but hooked-up when a guy saw it parked in front of my apartment and begged me to take the signs off while he got the money together after a test drive. He got the cash together, I handed over the title and this is probably the last photo I'll post of my old Tracker. The guy works on coffee farms so the 4×4 will come in handy for him. His buddies were pretty happy with the car too. Who knows, maybe the next cup of Kona coffee you drink will have been transported in my old Tracker.
And as for my Honda CR-V I bought I think I made the right choice. My 2006 CR-V has 8.1″ of ground clearance, the new 2007 model has 7.3″ of clearance. That's less than my old Tracker's 7.5″ which hit the skid plate a few times going out to Green Sands Beach and Mana Road. I'll wait to see how Andrea's lifted Jeep does before I try any crazy modifications (and I'll wait for my car's warranty to run out first).