I know this post is late but what else is new. But the photos will probably explain why it's late, plus there are lots of photos. Wednesday being St. Patrick's Day we did our best to celebrate. The one problem at Durty Jake's is that they didn't have any green beer, I mean, how much can green dye cost? But we made up for that with a suggestion by Travis who told Brian and me about building an Irish Car Bomb drink.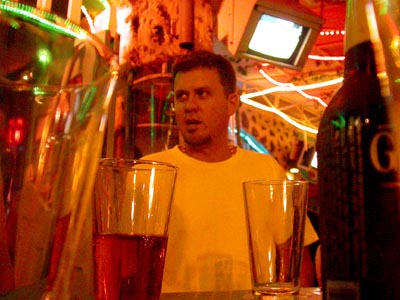 Travis explaining the intricacies of bomb-making.
Building an Irish Car Bomb
Step #1, gathering the bomb parts
A shot of 1/2 Jameson's Irish Whiskey, 1/2 Bailey's Irish Creme + A half bottle of Guinness in a glass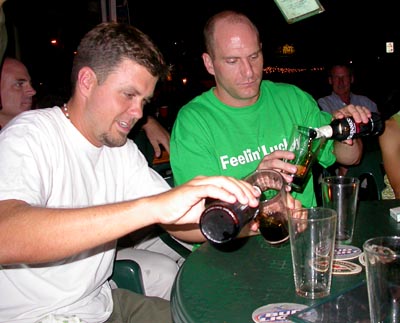 Step #2, building the bomb
Travis and Brian start building their bombs being careful pouring the Guinness, not too much, not too little.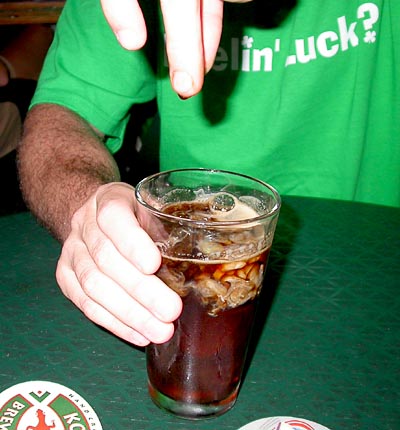 Step #3, dropping the bomb
Brian drops the shot glass into the Guinness.

Step #4, bombs-away!
Michael drops the bomb and chugs it down. Click on the link below for the video. It's a little dark but hey, it's a bar. The Irish Car Bomb is pretty smooth and tastes like chocolate milk going down. A dangerous combination.
QuickTime video of the bombing

Brian photographs the aftermath of the bombing.

Andrea #2, or 'Tall Andrea' at Durty Jake's. We already had another Andrea at work so it gets confusing sometimes, 'which Andrea? Oh, tall Andrea."