Spent part of the day in Hilo on a Big Island Candies run. This gal was cutting up a big sheet of chocolate. I thought it might be brownies but looking closer it might be something like their Crunchies candy which, if you can believe it, has macadamia nuts and potato chips.

Ah, Kona isn't the only place with traffic. This very long line of cars going on for blocks is in Waiakea as parents pick-up their kids from school. This is actually worse than the usual Kona traffic jams as the cars weren't really going anywhere, just a long parking lot on the road.

Ever since working on a railroad story for work I've been interested in seeing the old Hawaii Consolidated Railway roundhouse in Waiakea so I drove by there today. It's still there in Waiakea next to the 'Sparky' Kawamoto Swim Stadium (the place with the round roof in the background.
In old photos of this roundhouse there was a big turntable in the front of this half-circle building where a locomotive could chug onto, then the whole turntable would rotate with the engine on it so it could park into one of the roundhouse stalls. The building has vented crowns to the roof to no doubt let the soot and smoke rise out of instead of being trapping in the building. Today the turntable area has been filled-in and paved over as the roundhouse looks like a storage area. An unglamorous end to the glory days of rail travel in Hawaii. Would be a cool place for a train museum in Waiakea. You can find old photos of the roundhouse and many other HRC images at the Laupahoehoe Train Museum. A good place to visit if you're a train buff and visiting the Big Island.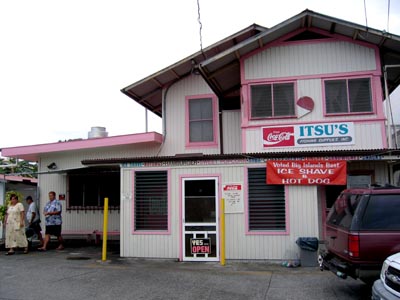 Couldn't decide where to go for lunch. Cafe Pesto? Kay's Lunch Center? I decided to try somewhere I've seen plenty of times but had never gone in. Itsu's is a combination lunch stop and fishing tackle store. I saw plenty of folks buying shave ice and hot dogs, the sign says they have the best in town. But I was hungry and they also sold plate lunches so I decided to give them a try.

So I got myself a spareribs plate (or for folks who don't live in Hawaii more accurately a sweet-n-sour spareribs plate lunch). A couple scoops of rice, mac salad, spareribs and some shredded won-bok cabbage under that. The spareribs were just okay, could have used more flavor as the sauce tasted a little watered-down. Had a big bay leaf in my portion. I will say that they were boneless which was a big plus and the meat was very tender. Still, I'm used to the spareribs at Sekiya's but that could be nepotism.