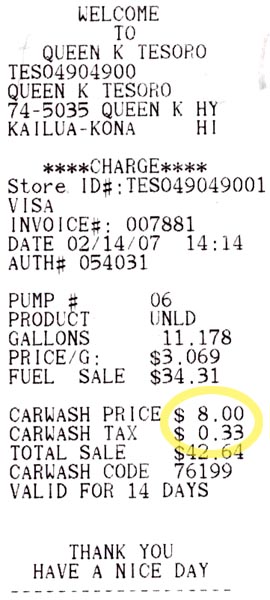 For those of you who put in fuel and get your car washed at the former Queen Kaahumanu Hwy. Chevron, now a Tesoro, you might want to take a close look at your receipt.
This station has a drive through car wash which is nice since it's quick and easy. They are supposed to knock-off $2 from your car wash price if you put in more than 7 gallons of fuel but ever since they switched from Chevron to Tesoro their computer system is messed-up and has been overcharging people by not giving the discount. The first time I saw this was about a week ago and decided to try again today when I came back to get another fill-up and wash. The error was still there so I went inside to let them know about the problem.
Right away they wanted to refund my $2 for each wash I was overchared (my two car washes) but I told them to just give me a free car wash ($6 value) since they overcharged me more than $2 per wash since they now add tax, unlike the previous owner Chevron.
So folks, if you've been buying car washes from them since the beginning of the month when Tesoro took over, you may have been getting ripped-off. Accidentally I'm sure but I'm really surprised nobody complained to them…or had they?
And don't bother trying that wash code, I already used it. :) On the plus side now the place is open 24/7.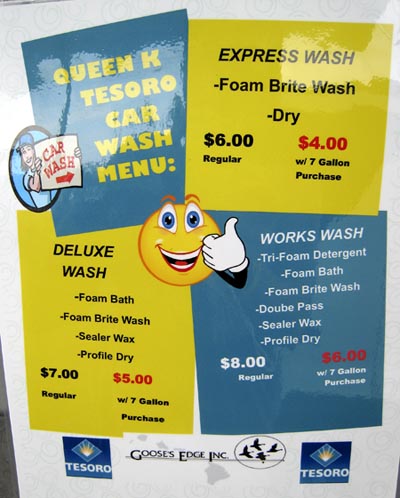 *UPDATE* 2/17/07 – They are still overcharging people at The Queen Kaahumanu Hwy Tesoro, I told them again today that they're overcharging and got a refund. Again they were going to give me a $2 refund and I made them give me back more than that to cover the tax paid too.
*UPDATE #2* 2/22/07 – They are STILL ripping-off customers at The Queen Kaahumanu Highway Tesoro. Went by and bought a car wash as a test after filling up. Still overcharging by $2 (they got rid of the tax) by not giving customers a discount. Gals behind the counter said they know about the problem and said folks have to ask for the $2 refund. They looked blank when I told them they should put a notice out there warning folks on their sign claiming to offer a discount.
*UPDATE #3 2/26/07 An email from Tesoro:
————————snip——————————-
Mr. Sekiya,
I am writing you in response to a posting on your blog that was brought to Tesoro's attention: https://www.mediabaron.com/2007/02/14/caveat-emptor/
The location in question, QUEEN K (KAILUA-KONA, HI) is an independently owned and operated location that was recently branded as Tesoro. The transition to operation as a Tesoro station, which includes updates to the dealer's computer software to properly record discounts for car washes, is now in progress and we have been in contact with the owners to ensure the process is completed in a timely fashion. In the meantime, the station has posted signs at the pumps to notify customers about this issue and to reassure them that they can receive the appropriate $2 discount by showing their receipt to a customer service associate inside the store.
We apologize for the inconvenience and we thank you for your understanding as we make this transition.
Regards,
Brandon Plank
Retail Tesoro Customer Care
phone: 1-877-783-7676
tsocustomercare@tsocorp.com
————————snip——————————-
I'm not sure how they are going to make good to folks who were overcharged but tossed their receipts. If you are one of these folks it wouldn't hurt to go in there and ask.