Dennis at Triple 7 during my last night in Las Vegas. He hosted a BBQ at his place the night before, no photos of that as it was just too kick-back. Dennis practicing his shaka for a future trip to Hawaii.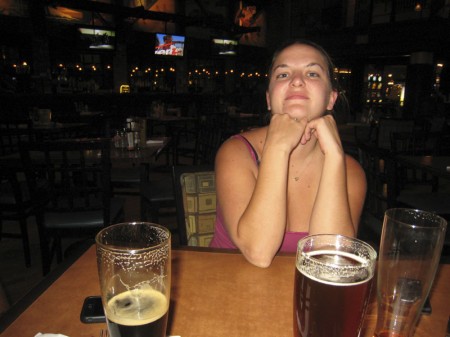 Carly probably wondering if she could finish another Royal Red Ale. Triple 7 is a pretty easy place to hang out since it's right in Main Street Station, I can use the freebie food coupons to get grinds there too. The day before I watched the Hawaii Little League team win the World Series on the many flat panel TVs in the Brew Pub with the loyal Hawaii crowd watching during lunch.
I recommend the marinated portabella mushroom burger with pepperjack cheese over the standard hamburger there. I had the brewmaster's special Mango Cream Ale 5% ABV, pretty good stuff but I'm not a real beer drinker so what do I know?