I follow several Twitter accounts and like to be notified if they tweet something important with specific hashtags. None of the twitter desktop apps I've seen can push out notifications for a custom search. I've heard you can do it with Hootsuite if you pay their monthly subscription. I haven't seen an iOS or Android app to do this either for free. There are several online services which start at about $9/month.
Old Solution
My workaround for Twitter search notifications has been to use an IFTTT applet to play watchdog on specific Twitter accounts and to watch for a certain hashtag then it would send me a text message via an SMS gateway. A Rube Goldberg type of set-up for notifications.
The cons to using IFTTT are:
IFTTT applets only perform actions every 15 minutes
The set-up can be buggy, I've had notifications sent to me hours late
New Solution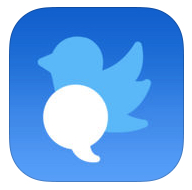 TwitPush is a new app in the iOS App Store so I can't really blame myself for not using it before. It was originally released on January 20, 2017 and was updated on February 7, 2017. This is a good sign amongst so many apps that have been abandoned in the App Store. It looks like the developer is in/from Brazil as they have an app for public transportation, maybe they can do one for Hawaii County but maybe not in Portuguese.
TwitPush is very easy to set-up, is free (there's an in-app purchase to get rid of ads when viewing your custom search logs) and it works great.
I set-up my custom search following a Twitter account and a specific hashtag and waited to see who would win the notification race between IFTTT and TwitPush. Upon every posting that fell under my custom search TwitPush sent me a notification within about a minute. Notifications were pushed to both my iPhone and my Pebble Time watch and it did this even with TwitPush running in the background on the iPhone.
If you're a social media professional and need to get notifications from custom searches then get TwitPush. Let's say you follow Hawaii 24/7 on Twitter and only want to get notifications when we tweet the hashtags #HItsunami or maybe #hiwx you can do that. Or maybe you follow DC and want a notification as soon as he tweets a BRAINBUSTER you can do it!
Get the app, make your life easier, pay the $0.99 to get the Pro ad-free version to encourage the developer on their great work. I don't know how long this great app will work as Twitter sometimes cracks down on the usage of their API unless this app is somehow scraping feeds without the API.
If you're an Android user and know of a good Android solution post something in the comments below and I'll check it out and update this post.
Here are some screenshots below from the iOS AppStore.